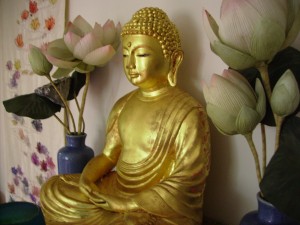 Dragon Bell Temple is a Buddhist temple  located in West Devon, in the South Zeal area, and is solely dedicated to meditation and the practice of Buddhism.
Great value comes from meditation being firmly rooted in our everyday lives. Having this temple in the quiet of the countryside, offers a place for practitioners to step out of busy lives and take the opportunity to ground themselves.
The temple has a resident teacher, Reverend Master Myfanwy McCorry, who offers support and teaching and runs the events offered at the temple.
Often people meditate on their own and get discouraged. Participating in the daily routine of the temple with the congregation and the resident teacher offers encouragement and support, and helps to ground and establish an ongoing meditation routine. Meditating regularly encourages a steady growth of confidence in  our ability to meet the challenges of being alive in ways that are loving, compassionate and wise,  doing our best to cause the least harm possible to ourselves, our environment and all beings.
We offer introductory mornings, group  meditation evenings, meditation mornings, day retreats, and residential weekend retreats.
The resident priest is licensed by the Order of Buddhist Contemplatives to offer naming ceremonies for children,  marriage blessings and funeral ceremonies.
In  keeping with the Buddhist tradition of encouraging generosity, we don't charge a set fee for any of theses events, asking that people give what they can to support the running of the Temple.
The Temple is solely financed by these offerings.
.